I'm finally posting about Trick or Treat at the Library, our Halloween party for toddlers and preschoolers! It's been going on for several years and was always aimed at very young children, but I got feedback this year that people avoided bringing babies/toddlers because they thought it would be a lot of candy! It's no candy! And, really, it's not Trick or Treating. So, changing the title for next year. Our community has another Halloween event for preschool through 5th grade, so we do something for the younger ones.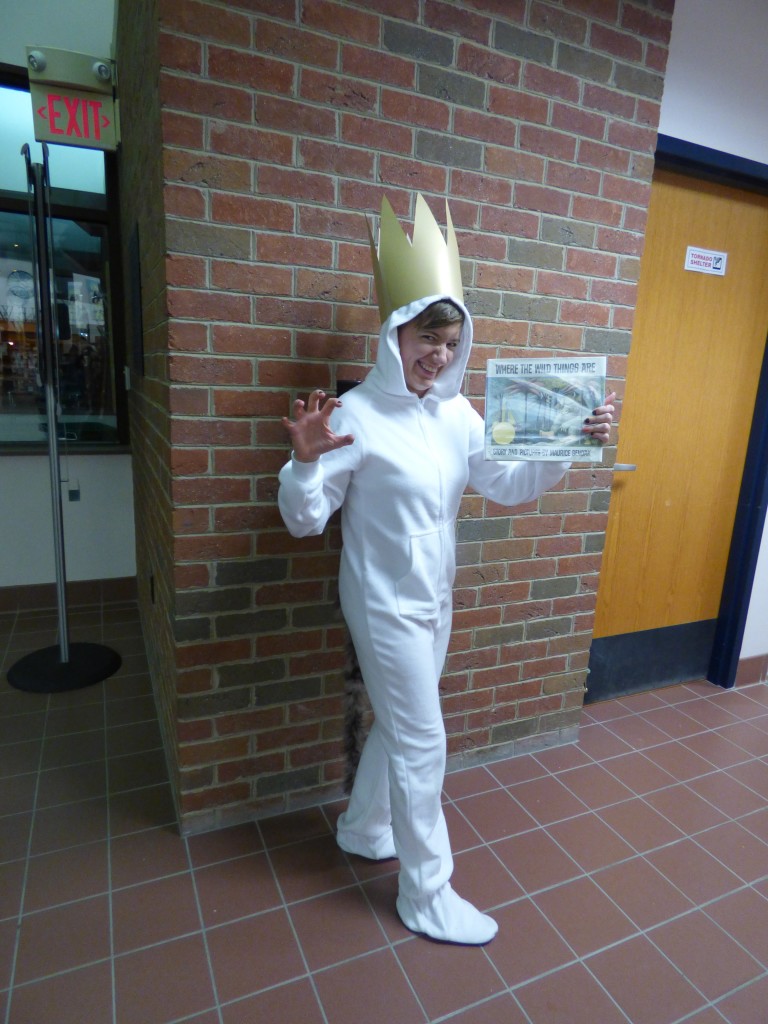 I dressed up as Max! A lot of people knew the book, but many kids didn't, and thought I was a bunny or something.
This is an open house style party from 5-7, with our usual pajama storytime afterwards at 7 (useful for getting everyone to leave the meeting room so that the volunteers could clean up a bit!) We had stations set up all over the room and in the children's area. This year I really focused on open-ended sensory stations rather than games, since I found those needed a lot of attention during the event and didn't suit the younger age group we were trying to attract.
The BIG HIT of the evening – spaghetti that was cooked, rinsed, dyed with liquid watercolors, and tossed with a little oil. Fun to dig in. One kid asked "Is that REAL GUTS?!?" Ooooh boy, though, lessons learned with this one. Wouldn't do it again in a crowded room – the spaghetti got dropped on the tarp (expected), dragged off onto the carpet when people walked away, and then got stepped on and ground into the carpet.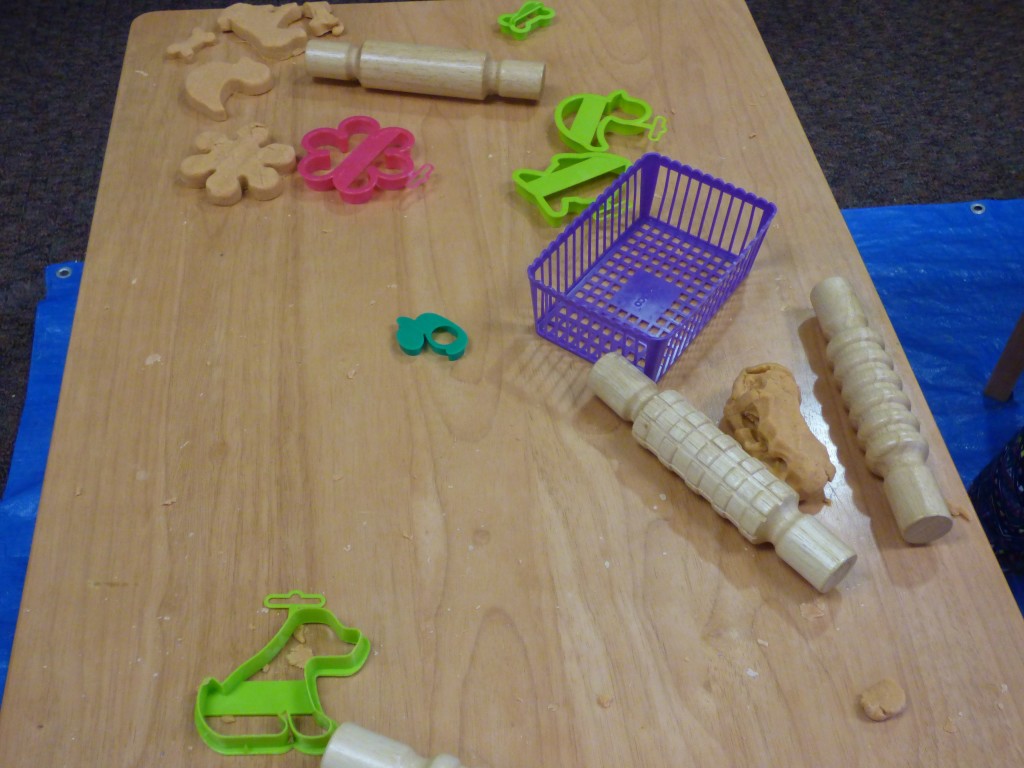 Play dough! My usual recipe, with a little orange food coloring and pumpkin spice added.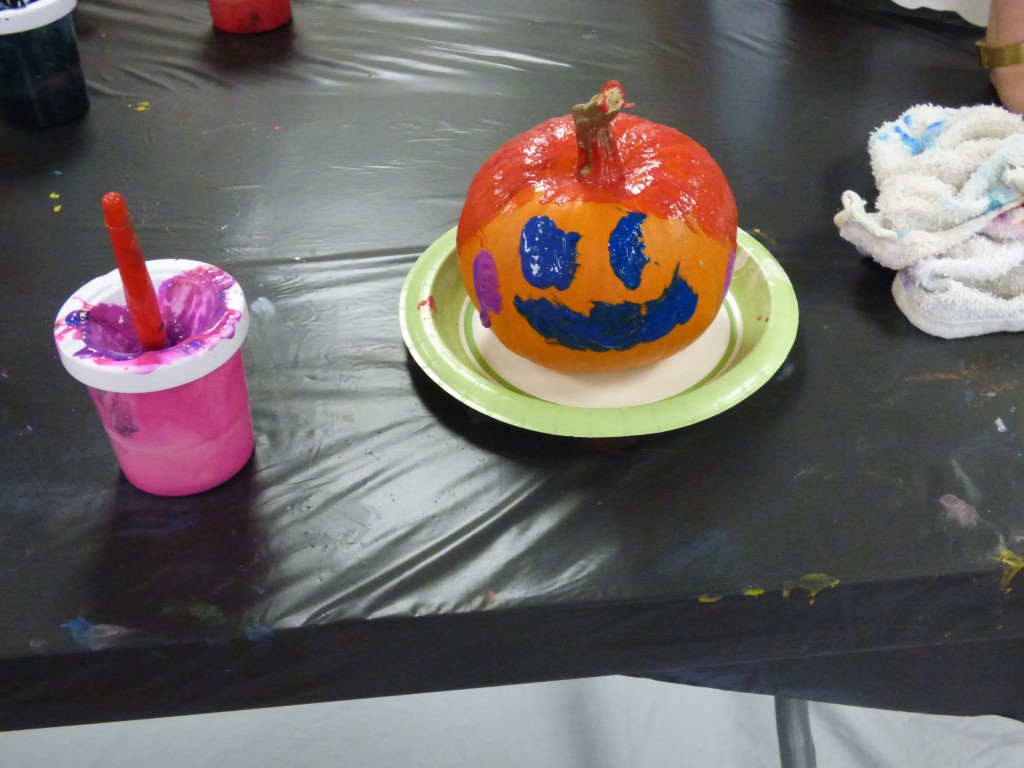 Pumpkin painting! The tempera paint I used seemed fine in my test, but when the kids painted on thick, it flaked off when dry. But they still had a lot of fun with it.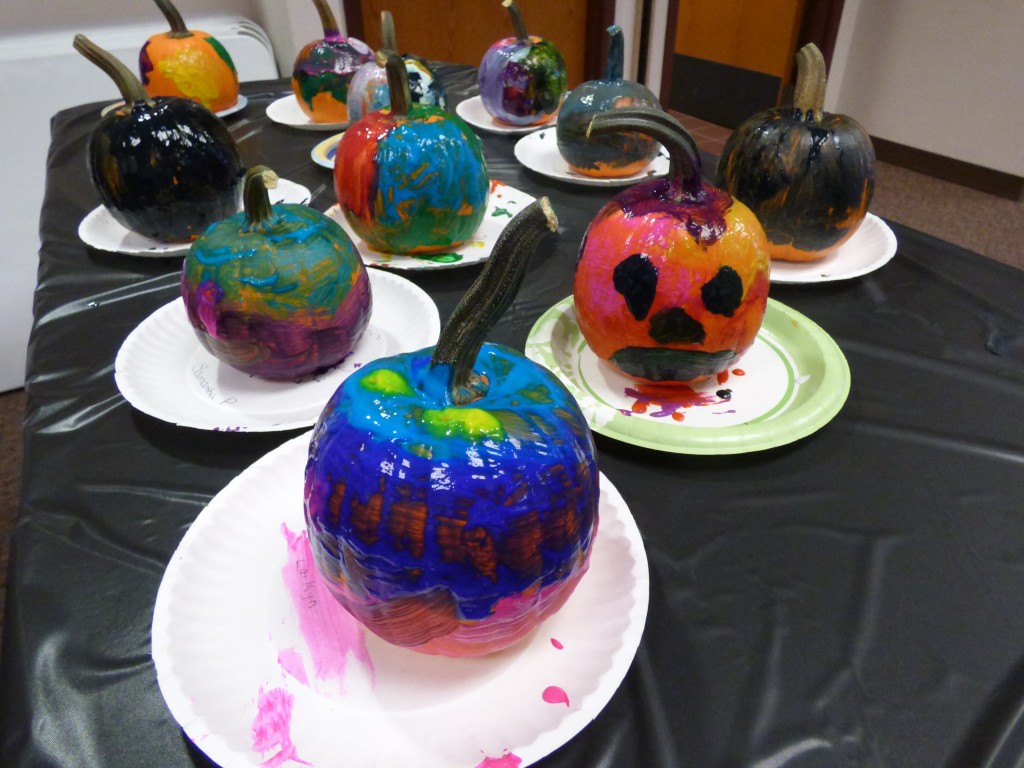 I put sheets under the tables – worked even better than the tarps, because the paint dribbles soaked in so that they couldn't get on people's shoes. I also had disposable aprons, everyone painted on a plate, and the adults were pretty attentive, so this wasn't too messy. The first year we've done painting pumpkins instead of foam face sticker kits on pumpkins, and I'd do it again.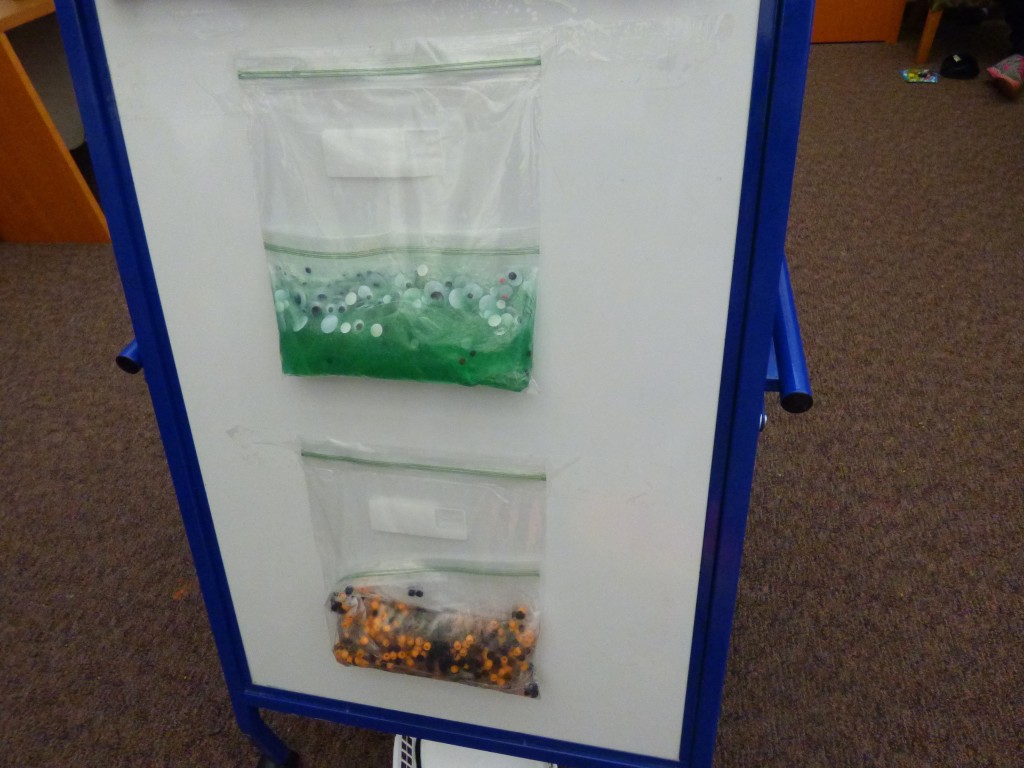 Something for the little ones – hair gel with bits to squish.
Feed the monster! This was cute, but the balls kept wandering to other parts of the library.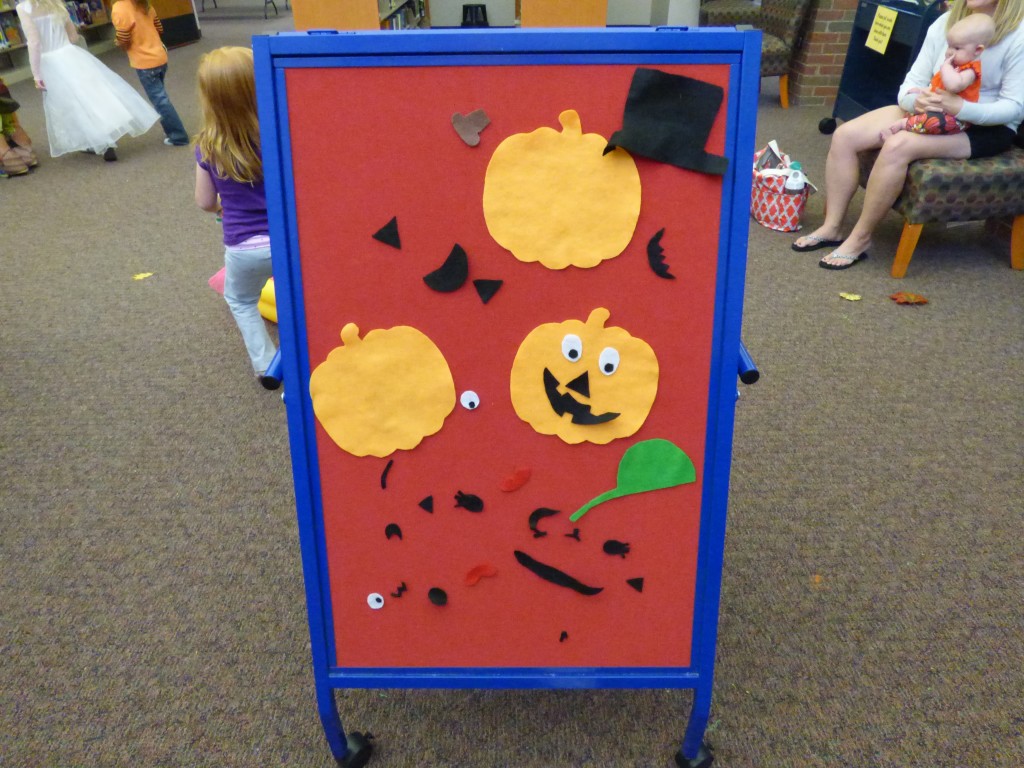 Felt pumpkin faces!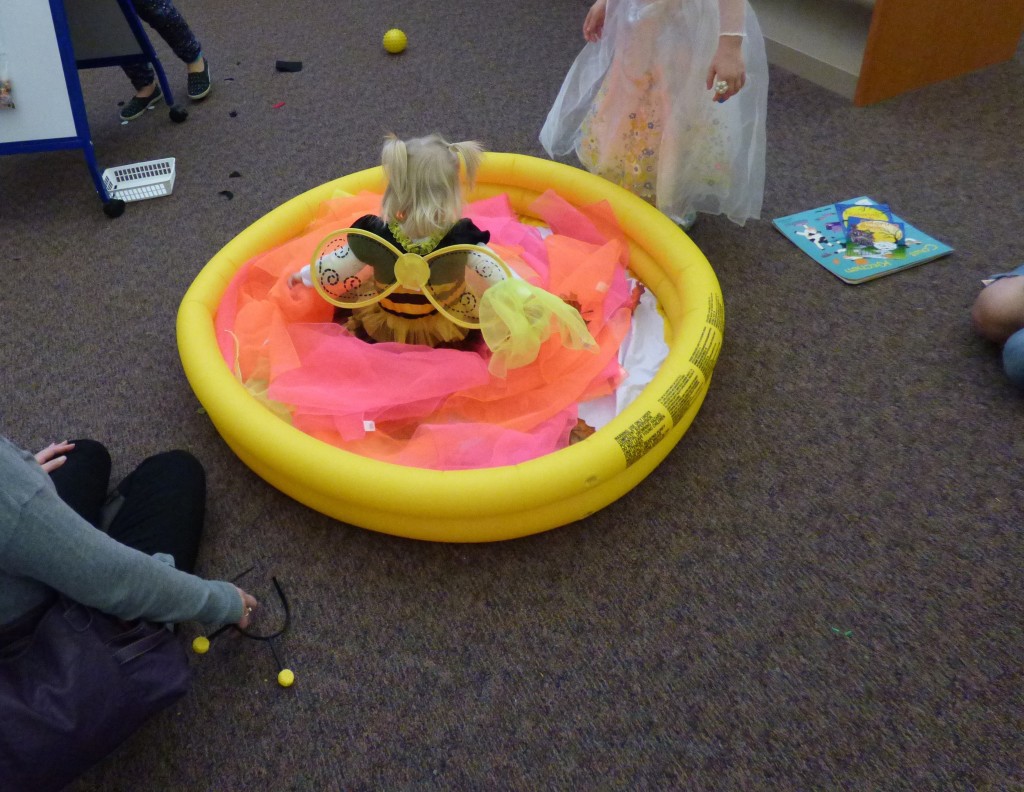 Pool with scarves and leaves! Another activity intended for the littlest ones, but a lot of older kids just picked up the whole pool and dumped out the scarves!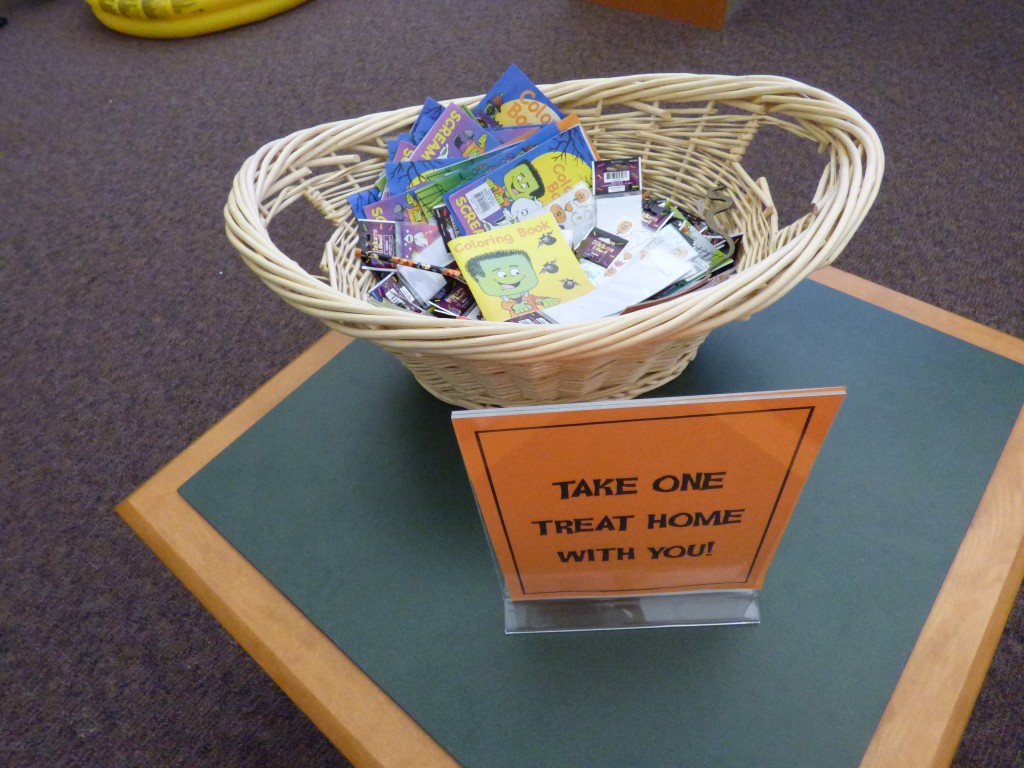 Take home treats – pencils, plastic spiders and snakes, coloring books, stickers.